2020 | Hong Kong Heritage Conservation Foundation and Tai O Heritage Hotel Nurture Future Hospitality Leaders
16 October 2020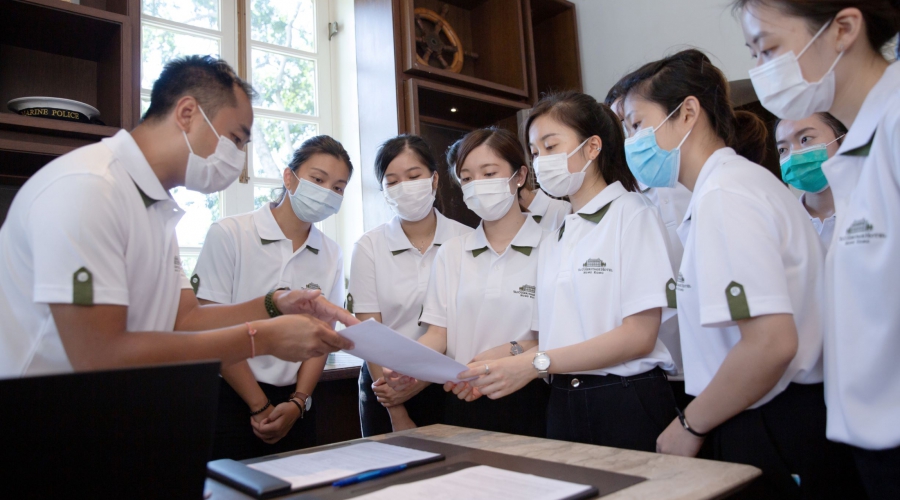 MORE PHOTOS
The Hong Kong Heritage Conservation Foundation ('HCF'), which operates the UNESCO-awarded Tai O Heritage Hotel ('Hotel'), has launched the Hospitality Young Leaders Programme to nurture future hospitality leaders to support the hospitality and eco-tourism industry. This is particularly meaningful with the renewed interest in domestic travels. Thanks to the positive feedback, HCF is extending the six-month programme to one year, providing the young leaders with even more in-depth training.
Revitalised and converted from the 118-year-old Old Tai O Police Station, completed in 1902 and designated as a Grade II historic building, the nine-room Tai O Heritage Hotel is the first UNESCO-awarded hotel in Hong Kong. Operated as a not-for-profit social enterprise, the Hotel uses surpluses to support site maintenance. Through the Programme, ten enthusiastic local fresh graduates have been hired, they receive comprehensive, on-the-job training in hospitality, eco-tourism and heritage conservation, including stints at the Front Desk, Reservation, Housekeeping, Sustainability and various departments of the Hotel. In addition to gaining valuable exposure to hospitality, eco-tourism, heritage and cultural conservation, the young leaders also participate in an array of community outreach and engagement activities to present the historical and architectural significance of the Hotel to visitors.
'Amidst the current globally challenging time, it is even more important to support our committed and talented youth and better prepare them for the future. We are delighted to provide this meaningful platform for aspiring young leaders to learn practical, professional skills about hospitality, eco-tourism and heritage conservation, laying a solid foundation for their future career development. At the same time, they are able to experience first-hand the unique charm of the Tai O fishing village and Tai O Heritage Hotel, revitalised from the classical architecture completed in 1902 and Hong Kong's first UNESCO-awarded hotel while learning more about Hong Kong's history and culture. I look forward to their contributions to our hotel, the industry and the community,' remarks Mr Daryl Ng, Director of the Hong Kong Heritage Conservation Foundation.
Dora To, a graduate of tourism and event management, is one of the participants of the Programme. 'What impresses me the most in this programme is my stint at the Front Office. As the first point of contact for arriving guests, I can introduce the history of the hotel as well as the character of Tai O to visitors. I am excited to learn more practical knowledge in hotel management, which helps me to do my job more effectively,' says Dora.
Michelle Chan, another programme participant, treasures the meaningful opportunity and exposure. 'University education tends to focus on theories. This programme enables me to put what I learnt into practice, increasing my industry knowledge and helps me prepare for the future,' comments Michelle.
The programme will conclude with a presentation by the young leaders to share their thoughts and suggestions on promoting Tai O as a sustainable tourism destination.
BACK