2023 | Tai O Heritage Hotel Celebrated Mid-Autumn Festival with the Community
4 October 2023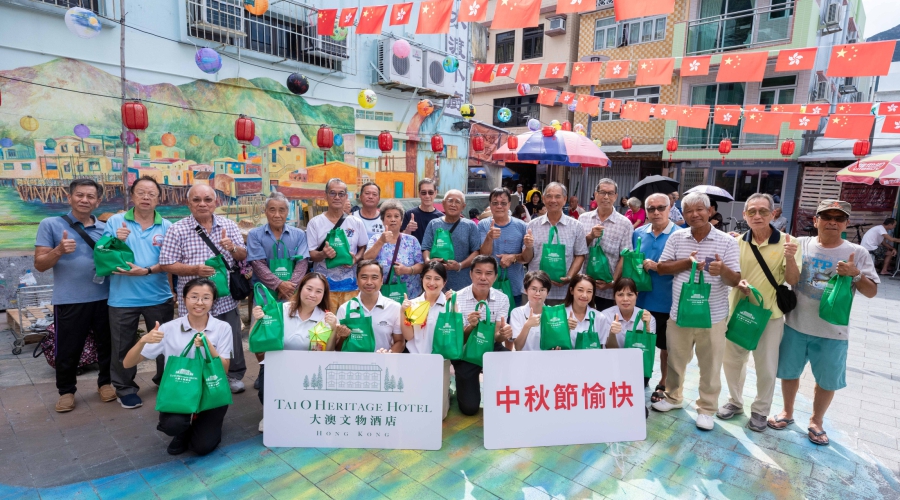 MORE PHOTOS
Tai O Heritage Hotel, converted from the Old Tai O Police Station that was completed in 1902 and designated as a Grade II historic building, seeks to preserve the historical significance of the classical architecture and engage the Tai O community to promote the unique charm of the fishing village. Hotel representatives and volunteers joined hands with the Tai O Rural Committee and community partners to visit elderly villagers living alone or with limited mobility, and presented over 1,000 festive gifts to celebrate the Mid-Autumn Festival together and spread love and care in the neighbourhood.
'We have been collaborating with Tai O Heritage Hotel on celebrating the Mid-Autumn Festival and other festivals for 11 consecutive years. On behalf of the Tai O Rural Committee, I would like to extend our heartfelt appreciation, and look forward to more collaborations with the hotel to extend care to the community', says Mr Siu-Ki Ho, Chairman of the Tai O Rural Committee.
'Tai O Heritage Hotel truly cares about the elderly living in Tai O. We appreciate their unwavering support on important occasions such as the Mid-Autumn Festival, and organising outreach events with the Tai O Rural Committee. Everyone is overjoyed,' remarks Tai O resident Mr Ming-Chi Leung.
'The Mid-Autumn Festival is one of the most important occasions for the Chinese community. We are humbled to have the opportunity to celebrate the rich traditions and unique rustic charm of Tai O with the village. I would like to extend my sincerest appreciation to the Tai O Rural Committee and our partners for their support to spread festive joy and care to the community,' remarks Mr Daryl Ng, SBS, JP, Director of the Hong Kong Heritage Conservation Foundation.
Opened in March 2012, Tai O Heritage Hotel has been operated as a not-for-profit social enterprise with surpluses channelled to support site maintenance, and more than half of the hotel's staff are Tai O or Lantau residents. Tai O Heritage Hotel seeks to build close bonds with the village and promote eco-tourism. The hotel won the Award of Merit at the UNESCO Asia-Pacific Awards in Cultural Heritage Conservation in 2013 in recognition of its commitment and engagement with the community, becoming the first UNESCO-awarded hotel in Hong Kong.
BACK