2016 | Sustainable Wedding Destination @ Tai O Heritage Hotel A Wedding Interlude
4 November 2016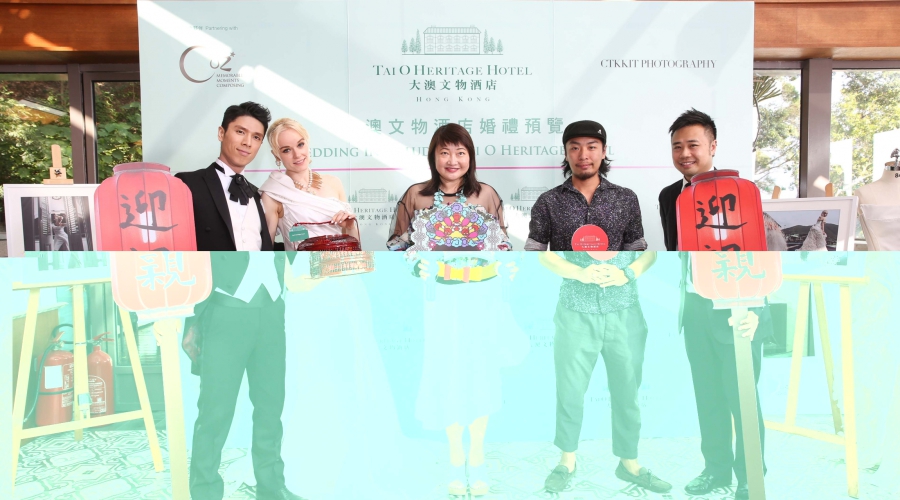 MORE PHOTOS
UNESCO-awarded Tai O Heritage Hotel hosted the first-ever 'Wedding-Interlude @ Tai O Heritage Hotel' on 4 and 5 November 2016 to showcase the award-winning hotel as an ideal seaside wedding venue for all weds-to-be, who are looking for a 'hidden-gem' to stage their dream weddings. Since its opening in 2012, the hotel has been dedicated to engage the Tai O community and promote heritage and culture conservation. Traditional Chinese marriage rituals and folk customs of Tai O fishing village were introduced to all weds-to-be, inspiring them to embark on a romantic voyage, symbolising the fulfilling journey of love at this Wedding Interlude.
Century-old fishing village Tai O witnessed hundreds of thousands wedding couples to tie their knots with elaborate folk rituals and processions that took place for two to three days. On 4 November 2016, bride-to-be Corinna Chamberlain and her fiancé, Eddy were invited to the wedding showcase and demonstrated the traditional Tai O fishing village water marriage rituals at the glass-roofed restaurant Tai O Lookout of Tai O Heritage Hotel. The groom used a paper fan to mock as three 'knocks or reminders' on the bride's head, signifying the blissful messages of health, marital piety and giving birth to new kin. Pre-wedding photographs of Corinna and Eddy taken by renowned wedding photographer Chan Kit were displayed. The wed-to-be and Chan Kit shared their unique and aspiring photo shooting experience in Tai O and Tai O Heritage Hotel. All guests savoured the wedding menu prepared by the chef team of Tai O Lookout.
Nestled in the western-most strip of Lantau Island in Hong Kong and graded as a Grade II historic building by the Antiquities Advisory Board, the 114-year-old Tai O Heritage Hotel was revitalised from the Old Tai O Police Station, a history-steeped building that dates back to 1902. The UNESCO-awarded hotel has been voted as 'Asia's Leading Heritage Hotel 2016' in World Travel AwardsTM recently. Perched on a small hill of the waterfront sidewalk of Shek Tsai Po Street, the hotel is a sustainable wedding destination signifying timeless serenity and intimacy for celebrating memorable dream weddings. Weds-to-be are well blessed by all the fisher folks right from their doorsteps, water alleyways, stilt houses, town hall square and village landmarks.
Tai O Heritage Hotel offers customised western wedding packages with a maximum capacity of 60 persons. Four-course wedding lunch menu starts from HK$588 per person*; five-course wedding dinner menu starts from HK$788 per person*. Pre-wedding photo shoot package at promotional price HK$2,688# includes 3-hour photo shoot within the hotel area and lunch for two at Tai O Lookout. All proceeds of the historic celebration of weds-to-be deducting operating cost will support local heritage conservation and the Tai O community. (*Subject to 10% service charge. #Photo shoot service is not included; an advance reservation is required; terms and conditions apply.)
BACK